Venue Hire
The grounds of this historic precinct are the private property of the Charles Sturt Memorial Museum Trust Inc. The Trust welcomes the public to hire the grounds during daylight hours. Wedding packages are available and assistance can be provided for special events such as birthday celebrations, family reunions, memorial services and club activities. The gallery is available for small intimate occasions like cocktails and high tea.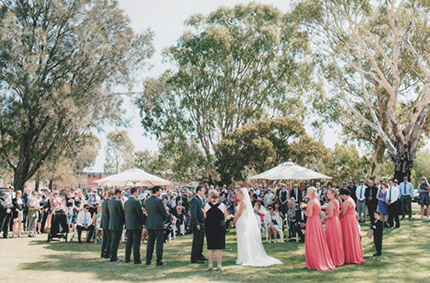 What can be hired
There are two outside spaces at 39D Jetty Street for hire - the enclosed heritage garden or the park surrounding the house. Both are hired to users for a moderate fee.
The enclosed Heritage Garden can be hired with a large white marquee, white plastic chairs, round tables and umbrellas. It can accommodate events with up to 100 people as well as small functions and verandas provide shelter from the weather.
The Park area can accommodate larger gatherings of people, events, ceremonies and/or exhibitions, including vehicles. It is also available for photography with the terrace being a popular choice. Access to the terrace is included in park hiring arrangements. There is plenty of shade and access to power can be arranged at a fee. Limited onsite parking is available. This area is not fenced separately from the local residents' use and is bordered by a popular bike path.
Inside the Gallery is available for small gatherings of up to 15 people, suitable for high tea, exclusive parties or small meetings.
Guided tours of the house museum can be made available for guests by arrangement, with fees for guided tours additional to hire fees.
As a rule, the galleries or grounds are not available for hire or use before an 8am set up or after 6.00pm. During early 2022, construction of the new Visitor Centre will restrict opportunity to hire these spaces. And of course, Covid rules apply.